point 4 Stud_ circle bent_ gold vermeil
£65.00
Using embossed silver sheet as thin as .4mm, they have beautiful fabric texture on the shape.
Made in London
material: 18ct rose or yellow gold vermeil plated sterling silver
size: approximately 7x7x12mm
*there is 9ct or 18ct options too please look at "GOLD & BESPOKE" (only circle curve and circle bent)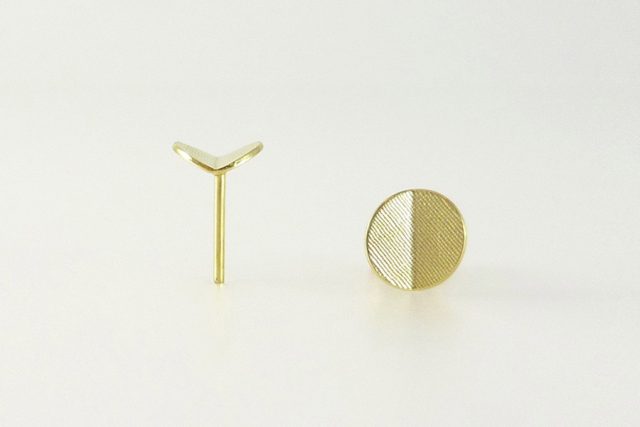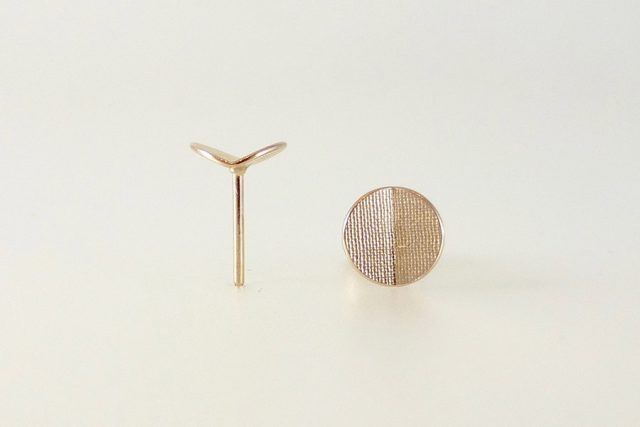 *Gold Vermeil plated products are the popular item since you can enjoy colour of 18 carat gold for a reasonable price, it's basically thick plating (more than 2.5 micrometers), ideally the gold surface must stay more than 2 years even if you are wearing the product often. Though, its really depends how it will be treated. It also seems to stay longer on necklaces or bangles and earrings, though it really varies with rings, it depends on how the person wears the jewellery, their body temperature eye, if you take off the jewellery at night etc.
The vermeil surface doesn't really like to be wet so please avoid water, sweat or humidity. Please dry them quickly by a soft cloth if the jewellery get wet.
If you are planing to wear this as everyday jewellery (washing dishes, taking shower …etc), I highly recommend to get 9 carat or 18 carat gold or Silver.
We also started re-publish & re-plating service: £15.00 +post ~ for a small ring or stud, its depends of the size of the product.